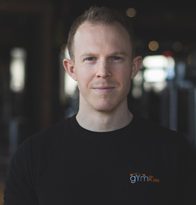 James Penfold
Head Trainer
As a Personal Trainer for the last 14 years, James has created a unique, successful approach to the way he practises health and fitness. By working closely with his clients, James enables them to achieve their goals in an efficient way. James specialises in fat loss, muscle building, and strength and conditioning training.
James understands that no single approach is right for everyone; each plan must be as unique as the individual. Having worked with a wide range of clients with specific goals and varying degrees of fitness, James has the experience needed to ensure the right approach is taken with each of his clients. It's supposed to be personal!
James is an advocate for following a plant-based diet. He and his clients have proved time and again that following a whole food plant-based diet is the healthiest and most sustainable way of achieving your goals.
James holds a degree in Kinesiology – Sports Coaching, and certificates in Sports Science and Fitness Instruction.