Our Club
At The Gym on Plains, we know what you're looking for in a health and fitness club – a highly personalized and uniquely intimate experience. We'd never expect you to settle for anything less. As an exclusive member at our modern facility, you'll be pleasantly surprised by the inviting community vibe we've fostered.
The Gym on Plains is a place where you'll be warmly welcomed by our supportive staff and greeted on a first name basis.
Upon entering our facility, you'll notice we carry a broad range of top level touch screen enabled cardio including the premium Trixter line of indoor cycles to offer you the best in total body workouts. Worried about finding the time to enjoy your personal entertainment while you're at the gym? We always have you in mind. At the Gym on Plains, you can watch your favourite television programs while you exercise or listen to your most energizing work out music using our iPod docks and USB plug in stations. After all, we want you to enjoy the time you spend working out to its fullest.

You can also expect to find a wide selection of resistance and weight training aids at our facility including dumbbells, benches, steppers and other advanced tools. We even offer the full spectrum of trigger point therapy equipment and TRXs. We can guarantee you that all of our modern fitness equipment is the best of the industry with built in hydraulics that ensure optimal muscle isolation for better results.
Our facility includes three washrooms, three showers, and change rooms with an abundance of lockers.
For those looking to get better results in less time, we employ an elite team of professional coaches who are experienced in providing dynamic personalized training regimens for all levels of fitness, beginner to advanced. In order to introduce you to the benefits of individual training, every membership includes a complimentary one hour orientation session with one of our coaches. With the one-on-one support of our enthusiastic personal trainers, we make it easier than ever for our members to stay committed to a healthier lifestyle.
Family Gym Owners - the Politano Family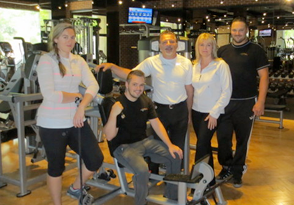 The Politano family are passionate about helping others achieve their fitness and wellness goals. Owning the gym was a dream not only for himself, but also for his daughter Katie Politano, who did not like the big box gym atmosphere. Katie wanted a gym that was less intimidating to work out in seeing she had a weight loss goal to achieve. One year later here at the gym she has achieve her goal. WHAT A TRANSFORMATION !  Burlington is a city filled with health-conscious individuals looking for diversity in their fitness routine. The Gym on Plains offers this with its unique Boutique-style facility
TRANSFORMATION - See Katie's weight loss achievement after working with our personal trainers at the gym »
The Gym on Plains is a place where you'll be warmly welcomed by our supportive staff and greeted on a first name basis.
Pre-Register at  Gym on Plains in Burlington »